The UFC is home to a wide variety of exciting fighters & fighting styles. From Olympic Wrestling Champions to BJJ World Champions, a new opponent presents a new challenge to every fighter. Some fight for fame. Some fight for money. Some fight for legacy. But others fight because they truly love to compete. These are the fighters that will forever hold a place in the memory of every UFC fan. Even if some of their UFC careers were not necessarily the most successful. As die-hard fans of the sport, we love the fighters that are willing to put it all on the line every time they compete. And are game to fight whoever, wherever, whenever.
UFC athletes spend their entire lives training and learning every aspect of MMA. Although, some fighters posses an unthinkable amount of courage, heart and pure determination that most argue cannot be taught. These gutsy brawlers are few and far between, and provide us with incredibly engaging fights every time they step in the cage. Some fighters have the ability to withstand incredible punishment throughout a fight. And come back strong in the last few rounds to claim the victory. These fighters often accumulate a high number of Fight Bonuses throughout their careers, and go on to become true fan favourites worldwide.
10. John Lineker
This 28 year old Brazilian was given the nickname 'Hands of Stone' for an obvious reason. Although he stands at a mere 5 foot 3, he is known for his aggressive fighting style, punching power & durability. Lineker is also the holder of a Brown Belt in BJJ and currently sits at #8 in the Bantamweight division. Throughout his UFC career he has earned 3 Fight of The Night Bonuses, and 1 Performance of The Night Bonus. This hard hitting brawler is a frightening match up for any top 10 contender. With 31 recorded pro wins, Lineker has knocked out 14 opponents that have stood before him, whilst also claiming 4 Submission Victories and 12 wins via Decision.
9. Mike Perry
The 26 year old Welterweight 'Platinum' Mike Perry is already a big favourite amongst UFC fans, due to his entertaining personality and relentless fighting style. Perry is down to stand and trade with any man that walks the earth. And the only way to stop him coming at you is to put him out completely. Most of his fights are bloody yet competitive back and forth wars. And Platinum uses constant forward pressure in an attempt to find a home for his devastating overhand punches. Since signing with the UFC, Mike has been awarded a Performance of The Night Bonus on two separate occasions. Although he has fallen short in 3 of his previous 4 fights, Platinum always displays his solid chin and excellent durability to withstand punishment.
8. Jeremy Stephens
A true UFC Vet and 'The hardest hitting 145'er' Jeremy 'Lil Heathen' Stephens is an aggressive 32 year old Featherweight brawler from the USA with 19 recorded Knockout victories. Stephens has taken an incredible 17 fights to a judges decision, winning 7 and losing 10. Willing to fight anybody the UFC matches him up against, Stephens brings the heat without fail every time and always puts on entertaining fights & performances for the fans. He has fought legends such as Cowboy, Frankie Edgar and Jose Aldo. And has also competed against rising prospects like Zabit Magomedsharipov. With 28 recorded professional wins, Jeremy has been awarded FOTN honours on 5 separate occasions. After epic bouts with Choi, Melendez, Swanson, Barao and Stout. He was also awarded Knockout of The Night 3 times after finishing opponents RDA, Buchholz & Davis.
7. Jorge Masvidal
'Gamebred' is one of the OG's of the fight game. The famous clip of him backyard brawling with one of Kimbo Slice's protege's is legendary. Fighting in the mean streets of his hometown from his early teens, Jorge found his talent of fighting at a young age. With 45 recorded professional fights under his belt, Masvidal has earned 32 victories. With 13 coming via KO/TKO, 2 via Submission and an impressive 17 via Decision. Gamebred has experienced some losses throughout his career, although some of those did come via Split Decision after competitive and close fights. Jorge was nicknamed 'Gamebred' for a reason, the man is willing to scrap with anybody the UFC put in front of him. At one point he went on a TV Game Show after complaining that simply nobody was willing to sign a contract to fight him. After struggling to find a game opponent, Masvidal finally got his wish when former Title Challenger Darren Till accepted the bout set for UFC London this coming weekend. The fight with Till should be epic, as both of these guys love to fight and will put on a great striking battle for the fans.
6. Justin Gaethje
The Human Highlight Reel Justin Gaethje is simply one of the craziest guys I've ever seen. With a strong wrestling foundation, Gaethje seems to completely forget about it all because he enjoys getting punched in the face so much. After building an impressive undefeated record and gathering some hype on the MMA scene, we finally got to see Geathje compete under the bright lights when he debuted against Michael Johnson back in July 2017. A debut fight which resulted in Justin being awarded the 2017 Comeback of The Year, followed by the 2017 Fight of The Year when he was defeated in an epic clash with former Lightweight World Champion Eddie Alvarez in December later that year. Justin is noted for his incredible durability and chin, and is one of the most game to scrap fighters in the UFC today. Any Justin Gaethje fight is worth watching, the man is fucking crazy!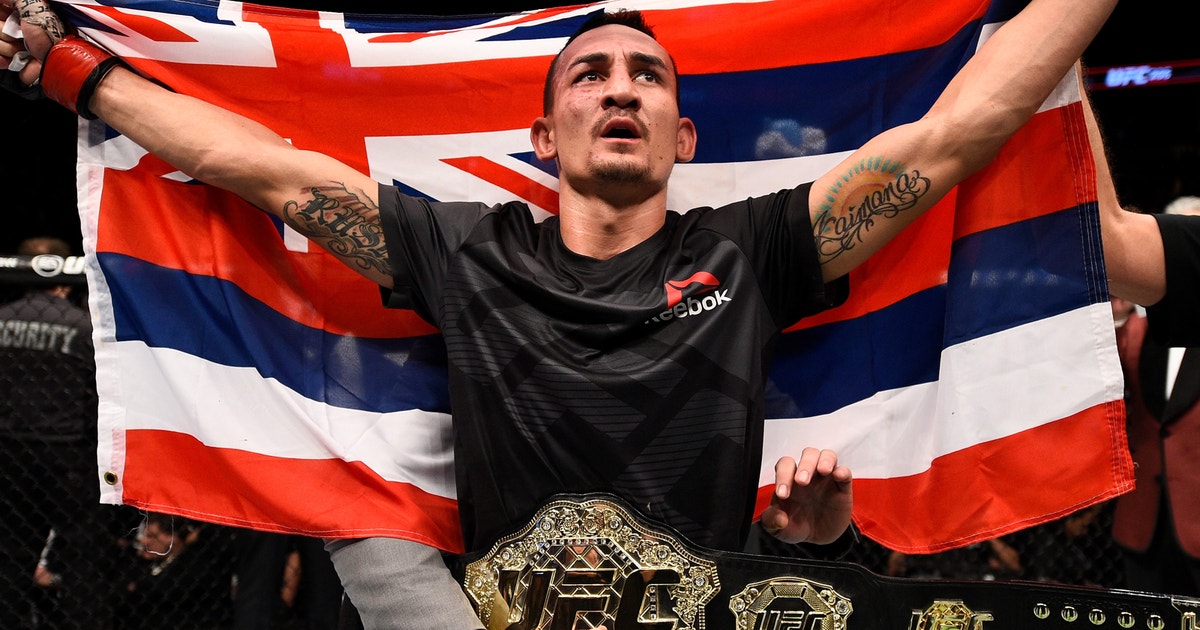 5. Max Holloway
This list wouldn't be the same without the superstar Featherweight Champion Max 'Blessed' Holloway. The Hawaiian at the age of just 27 has knocked out 10 of his previous opponents, including former Champion Jose Aldo twice. Taken 10 fights to the judges scorecards, winning 8 and losing 2 (one to McGregor). Holloway famously pointed to the ground against Ricardo Lamas and engaged in a epic exchange for the last few seconds of the fight. Max is technically brilliant with his fluid striking and insane cardio levels. Not only is he a phenomenal athlete and champion, but he is also a really nice guy. This killer stepped in on short notice to face Undefeated Lightweight Champ Khabib Nurmagomedov but was unfortunately withdrawn due to health concerns regarding the weight cut. When he returned to the cage after some time off, Holloway displayed his incredible striking ability by dismantling the previously undefeated BJJ specialist, Brian Ortega. Now with his sights set on Dustin Poirier for his first bout at 155, Max will finally make the jump up to the Lightweight Division. There have been talks of possible future fights with Khabib, Tony Ferguson and even a rematch with McGregor. I'm so excited to see Blessed throw down with some of the best fighters that Lightweight has to offer.
4. Tony Ferguson
Tony 'El Cucuy' Ferguson seems to defy all the laws of physics every time he competes. A former Ultimate Fighter Season Winner, Tony gets hurt in the majority of his fights, but has so far in his career always found a way to recover, and comeback strong to win the bout. An incredibly entertaining guy to watch fight, Tony is a master of elbow strikes and has put many of fighters asleep with his deadly submission game. With one of the longest win streaks in UFC history, we need to see Tony Ferguson fight Khabib Nurmagomedov before one of them retires. Ferguson is an extremely well rounded Mixed Martial Artist, and has earned 24 Wins with his unorthdox style since becoming a professional. With 11 Knockouts, 8 Submissions and 5 Decisions. Tony has only lost one fight in the UFC since signing with the promotion in June 2011. And his last fight vs. Anthony Pettis was another crazy bout. With Tony being hurt and dropped, before eventually winning the fight via Corner Stoppage.
3. Diego Sanchez
40 Fight Veteran
TUF 1 Winner
FOTN x7 vs: Parisyan, Stevenson, Guida, Thiago, Kampmann, Ellenberger & Melendez
Fight of The Year x3 vs: Parisyan, Melendez & Guida 
Tied For Most Post Fight Bonuses in UFC History (7)
Diego Sanchez turned pro in 2002, and went 17-0 before receiving his first loss. Involved in the most Fight of The Year bouts of all time, Sanchez comes forward and takes his opponents best shots before firing back some of his own in almost every bout. A true veteran of the fight game, Diego is a favourite amongst many die hard MMA fans. When Sanchez met Clay Guida inside the cage back in 2009, he flew out of the gates in the first round with an incredible barrage of punches and rocked Guida early. He then followed this with a brutal headkick shortly after which dropped his opponent. Guida then found some success in the following rounds and the fight became an epic contest. Sanchez was able to maintain his striking advantage for the remainder of the fight and walked away with the Split Decision nod after the judges scorecards were announced. This fight was awarded Fight Of The Year, and is just one example of the many epic Diego Sanchez fights.
2. Donald Cerrone
47 Fight Veteran
Most Wins in UFC History (22)
Most finishes in UFC History (16)
Most Post Fight Bonus Awards in UFC History (16)
Second Most Bouts in UFC History (30)
POTN x7 vs: Barboza, Miller, Oliveira, Cote, Story, Perry & Hernandez
FOTN x4 vs: Kelly, Diaz, Guillard & Hernandez
The most winning-est fighter in UFC History Donald Cerrone is renowned for being game to fight literally any man who ever lived. Cowboy has fought an incredible 47 times since turning professional in February 2006. With 35 wins, Cowboy has earned 10 Knockouts, 17 Submissions and 8 Decision victories. Many of times Donald has stepped up on short notice to save a card or main event slot, and has regularly stated that he doesn't even watch tape on his potential opponents. Just signs every contract with no question and gets on with it. A very experienced and well rounded mixed martial artist, Cowboy has fallen short in previous title fights but will always remain a big favourite amongst UFC fans.
1. Robbie Lawler
42 Fight Veteran
28 Wins, 20 KO's, 1 Sub, 7 Dec
Former UFC Welterweight Champion, 2 Successful Title Defences
Fight of The Night vs: Rory MacDonald, Johnny Hendricks, Carlos Condit & Matt Brown.
Fighter of The Year 2014
Fighter of The Year 2015
Fight of The Year vs Hendricks 2014
Fight of The Year vs MacDonald 2015
With an incredible 20 knockouts to date, Robbie Lawler is a savage inside the cage . Although Lawler is now coming towards the tail end of his career. Prime Time Robbie Lawler was one of the most intimidating men on the planet. With good cardio, devastating power and relentless forward pressure, Ruthless has been a fan favourite for many years. Awarded the UFC Fighter of The Year in 2014 and 2015, Ruthless was also honoured with the 2014 Fight Of The Year vs. Johnny Hendricks and 2015 FOTY vs. Rory MacDonald. This man has never been involved in a boring fight, neither has he shy away from a tough opponent or a tough fight. This is why I'm picking Robbie Lawler as my Number 1 Most Game to Scrap fighter currently in the UFC.
Some honourable mentions from fans included:
Bisping, Guida, Edgar, McGregor, Khabib, Condit, DC
Nunes, Cyborg, Holm, Iaquinta, Till, Henderson, Jones
Korean Zombie, Diaz Bro's, Miocic, Hunt, Bochniak, Shogun
Poirier, Adesanya, BJ Penn, Swanson, Medeiros, Oliviera and More
Thanks for reading and I hope you enjoyed this list!